New Code of Conduct launched in response to report on sexual harassment in UK advertising and marketing industry
Today, the Advertising Association, NABS and WACL, backed by the IPA and ISBA, have published the timeTo Report on sexual harassment in the UK advertising and marketing industry. In direct response to the report's findings, which were based on a comprehensive survey of over 3,500 industry insiders, the cross industry advisory group is launching the timeTo Code aimed at accelerating positive behaviour change in the industry. Written for every member of the advertising and marketing industry and the companies they work for, the timeTo Code provides guidance for employers and employees on how to address and ultimately eradicate sexual harassment in the workplace.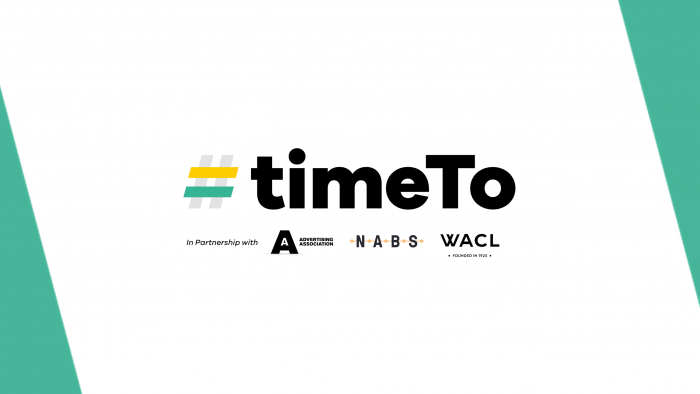 The timeTo Report is an unprecedented and robust survey of 3,580 people working in the UK advertising and marketing communications industry. Conducted by Credos, full methodology can be found at the end of this release. The report established a number of clear findings around sexual harassment in the advertising industry:
Of those surveyed, 26% of have been sexually harassed while working in the advertising and marketing industry – 34% of female respondents and 9% of male respondents
The great majority (72%) of those who have been sexually harassed have been harassed more than once, and of them, 25% have been harassed 6 times or more
A further 30% have witnessed sexual harassment happening to others so, in total, 41% have either experienced it and/or witnessed it (some people have both experienced it and witnessed it)
Sexual harassment is far from being a thing of a past – some 20% of female respondents aged 18-24 have already been sexually harassed in the few years they've spent working in the industry. Some 5% of men in the same age group have also experienced sexual harassment
Of those respondents who have been sexually harassed, 69% have experienced it within the last five years, while 28% have experienced it within the last 12 months
The results reveal a significant lack of clarity in both the definition of sexual harassment and in reporting systems
Many respondents also expressed distrust in reporting systems, with fears of career damage, and consequently 83% of those harassed said they did not officially report their experiences
Looking forwards, 97% of people surveyed agreed that 'sexual harassment should not be tolerated in our industry' showing the almost universal desire for action
With one in five (20%) female respondents aged 18-24 having been sexually harassed in the first few years of working in the industry, as well as 5% of men in the same age group, the report shows that sexual harassment is still a clear and current threat. So the cross-industry advisory group has consequently developed the timeTo Code to accelerate change.
The timeTo Code includes advice for senior management and HR professionals, for people who have been sexually harassed, for people who have witnessed sexual harassment, for people who fear they have behaved inappropriately and for people who may have been wrongfully accused. A copy of the timeTo Code is available for anyone in the industry to download at timeTo.org.uk
Businesses including the AAR, BBH London, Havas London, ITV and Karmarama alongside industry bodies such as Thinkbox have already committed to supporting the Code from launch and making it an integral part of their company culture, and that of the wider industry. A communications campaign will follow to build industry-wide awareness and support of the timeTo Code.
Stephen Woodford, CEO, Advertising Association, said: "It is clear that sexual harassment is a continuing blight on our industry with significant emotional and professional impact on the people in advertising. We should all strive for rapid and permanent change to make our industry a place where everyone can thrive without fear of sexual harassment."
Diana Tickell, CEO of NABS said, "Our survey shows not only a lack of understanding about what constitutes sexual harassment, but also a lack of confidence that offences will be dealt with. No one should ever have to put up with sexual harassment. It is crucial that people can identify harassment when it occurs and that everyone can be clear where the lines are. There can be no excuses and it must not be tolerated.

"For those who have been affected by sexual harassment – whether directly or indirectly – they can always turn to NABS, who offer free, impartial advice, support and guidance. No one should have to suffer in silence."
Kerry Glazer, President of NABS, outgoing President of WACL and CEO of the AAR, said, "The survey findings reveal that all sectors of the marketing communications industry are affected: sexual harassment occurs across all genders, sexualities, roles, and company types. The negative impact of this on achievement, productivity, happiness, safety, and people's basic right to equality and respect in the workplace, cannot be underestimated. By adopting the timeTo Code and increasing awareness that NABS is here for you if you need help, our industry can take huge and positive steps forward in making things better: safe, respectful, and equal for all."
timeTo was established in March 2018 to address the problem of sexual harassment in the advertising and marketing industry. timeTo builds on the global #MeToo and #TimesUp movements, but with a recognition that all parts of the advertising industry are affected – all sexualities, ages and genders, agencies, marketers and media-owners – and that, by taking action together, the industry will be better placed to make positive change to stamp out sexual harassment.
Longer term, culture change will be addressed through training programmes – for both joiners and existing advertising and marketing personnel – and other forms of communication.
No one should have to experience sexual harassment; anytime or anywhere. If you or someone you know needs someone to talk to, contact NABS who can offer free, confidential advice, guidance and support on 0800 707 6607 or support@nabs.org.uk
Visit timeTo.org.uk for more information.
Back to blog