Previous NABS Talks
NABS Talks are hosted by prestigious figures from throughout adland and beyond, see out list of previous events below.
Head over to our YouTube for more videos.
---
26th February 2019: The Shape of 2019
We joined together to debate the future of advertising & media with some of the biggest names in adland. We split in to four panel discussions which covered four hot industry topics: disruption, diversity and inclusion, reasons to be cheerful and wellbeing.
Panellists included: Matt Adams (Havas Media), Jonathan Allen (Channel 4), Helen Calcraft (Lucky Generals), Dominic Carter (News UK) and more…
Sam Orrin, senior partnerships manager at NABS join the disruption discussion. Take a read of what he took away from the night.
---
22nd November 2018: BAME Leaders Speed Mentoring
NABS partnered with Media For All for BAME Leaders Speed Mentoring, bringing together BAME leaders from across the industry, for an evening of fast-paced mentoring.
Mentors included: Bhavit Chandrani (ITV), Dara Nasr (Twitter), Dino Myers-Lamptey (MullenLowe Mediahub), Dora Michail (Telegraph Media Group), Gen Kobayashi (Ogilvy) and more…
View photos from the event on our Facebook here.
---
11th September 2018: NABS Speed Mentoring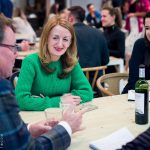 Our second London speed mentoring session of the year was kindly hosted by M&C Saatchi where we enjoyed a stimulating evening of mini-mentoring sessions with some of the biggest names in adland. From creative and media agencies to media owners and clients.
Mentors included:  Tim Irwin (Essence), Larissa Vince (Saatchi and Saatchi), Davina Barker (Digital Cinema Media), Rachel Forde (UM), Julian Lloyd-Evans (Dennis), Adam Gilsenan (Future Publishing), Jacque O'Donnell (Teads), Gill Huber (Posterscope), Karen Martin (BBH), Janet Carpenter (Spring Studios) and more..
---
22nd May 2018: Creativity, or the science of knowing what logic is wrong about
Rory Sutherland joined us in Manchester, kindly hosted by McCann Manchester at the People's History Museum for an incredibly successful NABS Talk where delegates learnt, in short, why nothing is quite as logical as we like to think – why 1 x 7 doesn't equal 7 x 1; you'll learn why sometimes the opposite of a good idea is also a good idea; and why your television is permanently hacking your brain – in a good way.
Rory is Vice Chairman, an attractively vague job title which has allowed him to co-found Ogilvychange, a behavioral science practice.
---
14th May 2018: The Black Dog in the room: what is the face of mental health in 2018?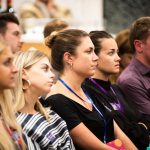 For Mental Health Awareness Week, Professor Tanya Byron join us to discuss what mental health and wellbeing are, how the brain works, how stress affects your brain, the difference between mind and brain, and not to mention some of these trickier questions and what they have to do with mental health.
Delegates walked away with tips on how to spot the signs of poor mental health in themselves and their colleagues, how to open up about your mental health in the workplace and how dealing with failure builds your resilience.
---
26th February 2018: NABS Speed Mentoring
We kick starting our 2018 talk programme with an evening of fun, fast paced and fascinating Speed Mentoring.
Delegates took this opportunity to ask our mentors the questions that shape and define each of our careers: what is their career mantra? How do they define success? How do you know when to leave a job? Where do they get their confidence from?
Mentors included:  Jason Dormieux (Wavemaker), Camilla Harrison (Anomaly), Rick Hirst (Carat), Chris Pelekanou (Clear Channel) and Sarah Jenkins (Grey London) and many more.
---
28th November 2017: Diversity in Action panel discussion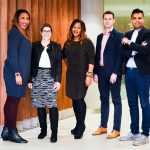 The debate has reached an inevitable conclusion: the virtues and necessities of diversity in our industry have been largely accepted by all parts of the industry.
Now is time to action the changes we need. Now we must find and implement the realistic and proven methods that create a more diverse workplace. And it's not just the responsibility of those at the very top – we should all feel empowered to expect and create a more diverse culture in our organisations.
This panel talk offered an opportunity to hear from the people at the front-line of action and change in our industry and celebrate the organisations and initiatives that are getting it right.
Guests included: Karen Blackett OBE, Chairwoman, MediaCom; Melanie Eusebe (Chair), Executive Producer of WoW at the Southbank Centre, Chair of the Black British Business Awards; Suki Sandhu, Founder and CEO of Audeliss, OUTstanding and EMpower; Mark Creighton, Chief Operating Officer UK & Ireland, Dentsu Aegis Network
View photos from the panel discussion here.
---
26th September 2017: Creative Panel with Sir John Hegarty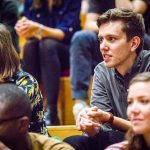 It's 2017; we're fifty years on from the Mad Men era, boundless possibilities provided by digital technology has brought with it a wealth of opportunity – and a few challenges –  along the way.
This panel talk offered an opportunity to hear from Sir John Hegarty and guests who shared their experiences and thoughts around the opportunities and challenges facing the creative and media industry and its talent today. Delegates received top tips on how to harness their entrepreneurial spirit, to continuously evolve and adapt to the ever changing media landscape and more.
Guests included: Pip Jamieson, Founder, The Dots (Chair); Chaka Sobhani, Chief Creative Officer, Leo Burnett and Rebecca Petts Davies, Graphic Designer, Wunderman UK
---
23rd May 2017: Sarah Wood OBE in conversation with Campaign's Maisie McCabe
Sarah Wood is co-founder and CEO of video ad tech company Unruly, where she ensures the company delivers the most awesome social video campaigns on the planet. Sarah has been voted Business Insider's #3 Coolest Woman in Tech, Veuve Clicquot Businesswoman of the Year,   Best CEO of the Year at The 2016 Europas Awards and City AM Entrepreneur of the Year 2015. She is a member of Tech City's Entrepreneur Advisory Panel, a Technology Ambassador for London and was awarded an OBE in June 2016.
---
4th April 2017: 'How to be a charismatic woman' with Deborah Frances White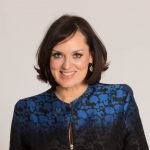 This session explored how women can harness their neurological advantages and learn to raise their status through learning new behaviours to become twenty first century business leaders. Power-suits, Dynasty hair and shoulder-pads not required!
Deborah Frances-White is the host of podcast The Guilty Feminist, a founder member of The Spontaneity Shop, co-author of The Improv Handbook, stand-up comedian, screenwriter, corporate speaker and executive coach and is passionate about helping women in business to unlock their personal power.
---
21st February 2017: Speed Mentoring with NABS 100 Club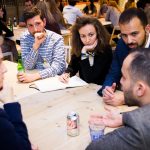 M&C Saatchi played host to esteemed members of the NABS 100 Club, where they imparted their pearls of professional wisdom on delegates from a range of creative and media agencies, media owners and clients.
Read a blog about the session written by one of our delegates here.
---
20th September 2016: Rory Sutherland, In Defence of Benign Bullsh*t @ Ogilvy & Mather
September's Talk was with TED regular and Vice-Chairman, Ogilvy & Mather Group, Rory Sutherland; where he talked in defence of benign bullshit. Is stripy toothpaste unethical? Why does Wagamama ask if you've ever been to Wagamama before? How can you make people enjoy the rail replacement bus service? Why should you never send a wedding invitation by email? Why does the brain link buying a sofa with your spouse? And why will you always end up landing at JFK, not Newark?
All of these baffling mysteries can be explained by one very simple psychological fact. Quite simply the things we think are important and the things we feel are important aren't always the same things.
---
10th May 2016: Dara Nasr, Managing Director, Twitter
Dara Nasr where discussed How Mobile Changed the World! What would we do without our phones in this fast-paced, frenetic world we live in? How many of us feel naked and lost without our smartphones in our hands? In the modern, digital age, our phones reflect our lives; constantly connected, in touch and switched on.
---
5th April 2016: Jonathan Wise, Strategic Planner & Co-Founder of the Comms Lab, 'Ethical Advertising'
Jonathan Wise discusses 'Ethical Advertising', and how we can use our skills to make a positive difference within the industry and in society as a whole.
---
9th March: Richard Mullender, Hostage Negotiator, 'Life or Death Listening'
Richard's talk focused on improving communication skills and the ability to inspire, influence, understand and persuade, through his experience as a hostage negotiator.
---
24th November 2015: Sir Martin Sorrell, interviewed by Alastair Stewart OBE – CEO, WPP Group
---
3rd November 2015: John Neal – performance coach and sports psychologist
---
15th September 2015: Oona King – Baroness King of Bow, Diversity Executive at Channel 4