Introducing our new brand
Today we are delighted to announce the launch of NABS' new brand, alongside the relaunch of our Ambassador's Programme, with a fabulous new recruitment campaign created by our agency, Fold7.
A line.
At NABS, we always open with a question; one which reflects our core values – from being accessible and impartial, to showing heartfelt support. It opens up a conversation and invites people to question not only how they are doing, but also where they want to be going:

"Through two simple words: 'How's Work?' NABS challenges us all to reflect on the direction in which we are going. Whatever the answer to the question, their focus on building resilience and confidence, career guidance and advice, and heartfelt support can help us all stay on course. This new branding is a timely reminder that NABS are needed in today's world of work more than ever." – Karen Blackett OBE
A look.
Our new brand look visually communicates our aim to help people find a positive path forward through life's ups and downs. It evokes both the connections we create with individuals and the connections we all need to succeed and thrive within our volatile industry.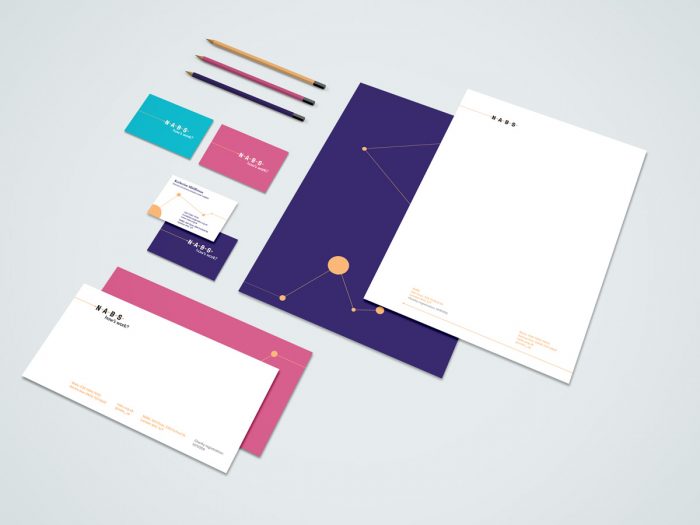 A Programme.
The last few years has seen the NABS team embark on an exciting period of change, and this rebrand is the culmination of this transformation. More people are using our services than ever before and we are having more conversations across our industry than at any point in our long history.
To help secure the engagement of future generations of NABS supporters, we are relaunching the NABS Ambassadors Programme.
We're looking for people who care about the wellbeing of their colleagues and important industry issues to help spread the word about NABS and the work we do.
These will be people who are naturally interested in:
Improving your organisation and the industry from the inside
Helping their colleagues make the most of NABS' services, such as our Advice Line, grants and career coaching
Encouraging your company to get involved in NABS events
Being a voice for their colleagues in adland
"Our 'Who Cares?' campaign aimed at recruiting the next generation of NABS Ambassadors aims to bring to light important issues facing our industry and to provoke a response from those who want to address issues around workplace wellbeing. We want to find the people in our industry who share our ambitions of creating a happier, healthier more productive workforce and want to play an active role in improving work life for them, their colleagues and the industry at large." – Diana Tickell, NABS CEO
Do keep your eye out in the coming weeks for more info. We'd also like to take this opportunity to thank John Duncombe for supporting us through the legacy of the David Pilton Award, which has helped us make this programme a reality.
We hope you enjoy our new brand. We're excited to share it with you. If you have any questions or any thoughts you'd like to share, please don't hesitate to get in touch.
Back to blog